Norfolk Southern begins training emergency response workers on the Bellevue railroad.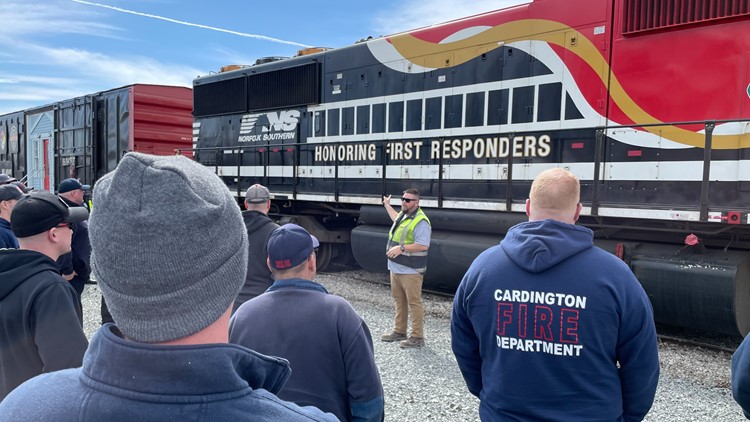 Over the next two weeks, the training program will train more than 350 first aid professionals.
Bellevue, Ohio. On Tuesday, Norfolk Southern began training rescuers from Ohio, Pennsylvania and West Virginia in case of a railroad emergency.
SUBSCRIBE: Get the most important headlines of the day in your inbox every weekday morning with free 3News to GO! Newsletter
"Incidents on the railroad in general are so rare that most fire departments may never respond to them in their entire careers," said Norfolk Southern senior communications manager Connor Speelmaker. "If they do this hands-on training, it helps them gain muscle memory, an experience they wouldn't have otherwise."
The training, taking place in Bellevue, will train more than 350 first aid specialists over the next two weeks. It includes the following topics:
Railway safety
Understanding Rail Transport Documents
Identification and evaluation of tanks
Valves and fittings for tanks
Locomotive Emergencies
Railway emergency response
AskRail mobile application
Response Strategies and Tactics
The training comes as the company works to draw attention to its safety efforts nearly two months after the East Palestine train derailment.
"Safety comes first, which is why we are working with the NTSB (National Transportation Safety Board), we are working with the FRA (Federal Railroad Administration), we are working with our customers to determine what we need to learn from them to make Norfolk Southern an even safer railway company from East Palestine," Speelmaker said.
Members of the East Palestine fire brigade were among two dozen participants on Tuesday.
"Everyone with a railroad running through their community should take the course," East Palestine deputy chief Rick Gorby said, adding that every fire department should be trained to learn about trains passing through their cities.
"I didn't know the differences between some valves and now I think I have a decent education," Gorby said.
Gorby hesitated to comment on the crash. While he said Tuesday's meeting was very helpful and informative, he doesn't think it would have helped if his team had received a safety briefing prior to the crash in his city.
"February 3rd was a completely different situation, we still wouldn't have been able to do what we learned today," Gorby said. "It was too big an incident. We knew we were pretty fast from the start, so that's when we pulled back."
Training in Bellevue will continue for another two weeks, with first responders on site for about eight hours.
"I just hope we never have to do this again," Gorbi said of the February 3 train derailment in East Palestine.
News Press Ohio – Latest News:
Columbus Local News || Cleveland Local News || Ohio State News || National News || Money and Economy News || Entertainment News || Tech News || Environment News