'This community will need to trust each other': Akron Mayor Dan Horrigan addresses Jayland Walker's death during latest State of the City speech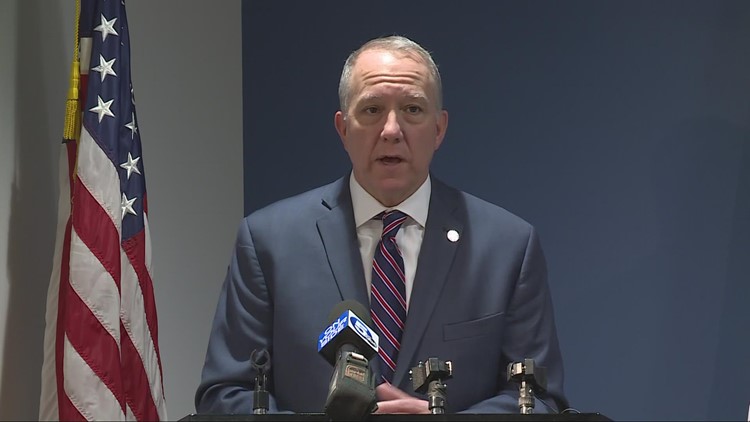 Last October, Mayor Horrigan announced that he was not up for re-election for a third term.
ACRON, Ohio. Ending his final months in office, Akron Mayor Dan Horrigan delivered his final address to city officials Wednesday morning at the John S. Knight Center.
During his speech, Mayor Horrigan touched on the death of Jayland Walker.
"There is no doubt that in the coming days and weeks this community will need to trust each other more than ever as the independent investigation into the death of Jayland Walker goes public and a grand jury makes a decision," he said. I can tell you that conversations between my office and community leaders have continued since Jayland's death, and I thank those who led those conversations and, most importantly, those who listened, because we must do both in times like these."
Walker was shot dead last June when eight Akron police officers opened fire during a nighttime chase. Police say Walker shot in one spot while chasing the car, but was unarmed when police opened fire as the chase continued on foot. According to police, a handgun was later found in Walker's car.
You can watch Mayor Horrigan's full statement on the state of the city in the video below:
Security was also the topic of Mayor Horrigan's speech.
"Without security, you have nothing else," Mayor Horrigan said. "You can invest in roads, sewers and businesses, but if people don't feel safe in their communities, nothing else matters."
He said that this is a conversation that should start in our own homes.
"We cannot require our schools and teachers to educate our children to distinguish good from evil," he continued. "That responsibility lies with every household and all of us in this city. We can't expect the police department to solve all of Akron's problems. Our city government certainly cannot prevent crime alone. Violence is a complex issue. with a myriad of social determinants working together to create conditions in which people see violence as the only solution to their lifestyle. Violence is simply a symptom of systemic inequality. As in medicine, treating the symptom alone will never cure the disease."
Mayor Horrigan also spoke about the Akron Police Department and its role in providing security.
"The Akron Police Department wants to serve their communities. They want to serve and protect our residents, and their main goal is to make our city safer. And, like many institutions in our city and across the country, we must evolve to strengthen these police-community relationships and meet the needs of those who feel left out, to help us create a safer city for all of us. One of the ways that we can continue to work on this as a city is to continue to diversify our urban workforce and our police force. We must continue to build bridges and have difficult conversations with people who feel they are out of place.
Mayor Horrigan is set to leave office later this year after announcing that he will not run for a third term.
"My reasons are my own and they are without regret," Horrigan wrote back in October. "It is a great professional honor for me to serve as the 62nd mayor of Akron. I intend to complete my second term by December 2023 with the same energy and integrity that I hope I have shown so far. There is still a lot of work to be done. ."
Just two days later, Mayor Horrigan announced who he was confirming for his position.
"I have no hesitation in supporting Marco Sommerville as the next mayor of Akron. Marco has been a dedicated public servant in the Akron community for over three decades, Mayor Horrigan said Oct. 6. "He has established himself as a champion. people, always fighting for fairness, fairness and accountability when he served as a council member, council president and in city administration. I consider myself lucky to have him by my side as deputy mayor and senior advisor during my tenure as mayor. I am confident that Marco is the best leader for Akron's future and I will be proud to cast my vote for him in May."
Editor's note: The video in the player at the beginning of this story was originally posted in a previous article on October 4, 2023.
SUBSCRIBE: Get the most important headlines of the day in your inbox every weekday morning with free 3News to GO! Newsletter
Want to be among the first to know the most important local and national news? You can download the free WKYC app and receive updates directly to your phone: Android, Apple.
News Press Ohio – Latest News:
Columbus Local News || Cleveland Local News || Ohio State News || National News || Money and Economy News || Entertainment News || Tech News || Environment News