Yellen says bank is 'stabilising', system is 'robust'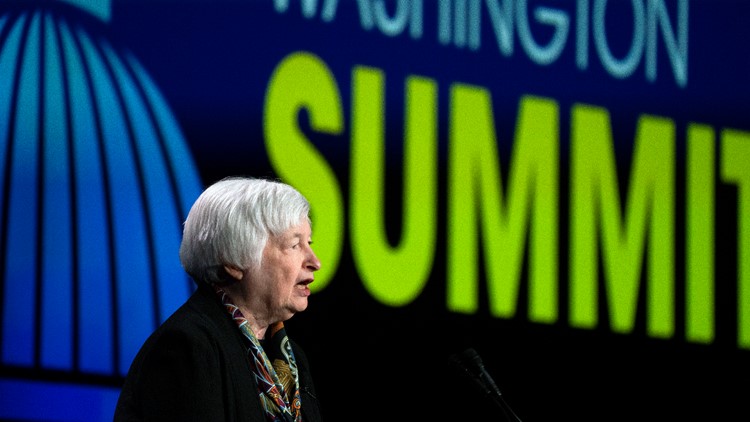 The government intends to restore public confidence in the banking system and prevent further unrest.
WASHINGTON. Treasury Secretary Janet Yellen is trying to remain calm in the wake of regional bank failures, saying on Tuesday that the US banking system is "robust" but that more bailouts "may be justified" if any more failures in smaller institutions pose a risk to financial stability. . .
Yellen, who spoke at the American Bankers Association, said that overall "the situation is stabilizing."
"And the US banking system remains healthy," Yellen said.
Yellen's remarks come after a series of disturbing events at the bank this month.
A Silicon Valley bank based in Santa Clara, California, filed for bankruptcy on March 10 after depositors rushed to withdraw money over concerns about the bank's health. It was the second largest banking collapse in US history. Regulators met the following weekend and announced that New York's Signature Bank had also failed. They said all depositors at both banks, including those with uninsured funds in excess of $250,000, would be protected by federal deposit insurance.
And last week, a third bank, San Francisco-based First Republic Bank, was shored up with $30 billion in funds raised by 11 of the largest US banks in an attempt to prevent its collapse.
Now the government intends to restore public confidence in the banking system and prevent further unrest. The Justice Department and the Securities and Exchange Commission launched investigations into the collapse of the Silicon Valley bank, and President Joe Biden called on Congress to tighten rules on regional banks and impose tougher penalties on bankrupt bankers.
Yellen said government intervention was necessary to "protect the banking system as a whole" and more rescue efforts may be needed.
"Similar actions may be justified if smaller institutions suffer from a run on deposits, which poses a risk of contagion," she said.
Yellen met with the Senate Finance Committee last week and gave upbeat assurances to shocked bank savers and investors that the US banking system "remains healthy" and Americans "can be confident" that their deposits are safe.
She will appear before Congressional committees twice more this week, in the Senate and House of Representatives, and will inevitably face new questions about the nature of bank failures and the government's efforts to crack them down.
"Let me be clear: the government's recent actions have demonstrated our strong commitment to taking the necessary measures to ensure the safety of depositors' savings and the banking system," she said.
While details of bank failures are still being released, Democratic lawmakers and some economists say the repeal in 2018 of parts of a far-reaching 2010 law aimed at preventing a future financial crisis was a major cause of institutional failure.
Before Yellen spoke at a panel on the state of the banking system, Scott Anderson, president of Zions Bank, said he didn't think the 2018 pullback was due to the bank's failure.
"Congress needs to be careful," Anderson said. They need to look at what happened. They should have a thorough discussion and careful deliberation. But they should not jump to conclusions. I don't think these failures show that there are any problems in the banking rules that we have now."
News Press Ohio – Latest News:
Columbus Local News || Cleveland Local News || Ohio State News || National News || Money and Economy News || Entertainment News || Tech News || Environment News