Xi's trip to Russia supports Putin's 'dear friend' as China resists US power
WASHINGTON. Chinese President Xi Jinping's trip to Russia is a symbolic blow to the hand of his increasingly isolated Russian counterpart, Vladimir Putin, and highlights Xi's resolve to fight back against American influence in the world, experts and former US officials say.
Calling each other "dear friends," the two leaders held informal talks in Moscow on Monday that lasted nearly four and a half hours, the Russian state news agency TASS reported, and talks took place between their full delegations on Tuesday. In a televised address after welcoming Xi in the Kremlin, Putin said he had "thoroughly examined" China's recent proposal to end the war in Ukraine, where Beijing tried to present itself as a potential peacemaker.
There has been no sign of a diplomatic breakthrough on Ukraine since Tuesday's meeting. Putin praised Xi's peace plan and accused Kyiv and the West of rejecting it. Xi, meanwhile, made little to no mention of the conflict, saying that China takes a "non-partisan stance" on it.
The three-day state visit highlights that Xi, unlike his predecessors, wants to position himself as a world-shaping leader and his country as a counterbalance to America's longstanding global dominance.
"Xi Jinping wants to show the world that he is a statesman," said Brian Hart, a China Power Project fellow at the Center for Strategic and International Studies in Washington, "and that Beijing wants to "play a constructive role."
Former Secretary of State Henry Kissinger told NBC News that Xi's visit "is an important change in the world, in the global strategic situation."
Washington criticized Xi's trip for giving Putin "diplomatic cover" after the International Criminal Court last week issued an arrest warrant for the Russian leader on charges of involvement in the alleged kidnapping of Ukrainian children, which his government denies. Beijing says the court is using "double standards".
The White House urged Xi to use his visit to force Putin to respect Ukraine's sovereignty and withdraw his troops. But officials said they were worried Xi would instead reiterate calls for a ceasefire that would leave Russia's territorial gains in place — part of Beijing's 12-point proposal that is sparse in detail and met with skepticism from the US and its allies.
Secretary of State Anthony Blinken said that any peace plan that does not include the withdrawal of Russian troops from Ukrainian territory is "at best a delaying tactic."
"The world must not be deceived by any tactical action by Russia, backed by China or any other country, to freeze the war on its own terms," he said on Monday.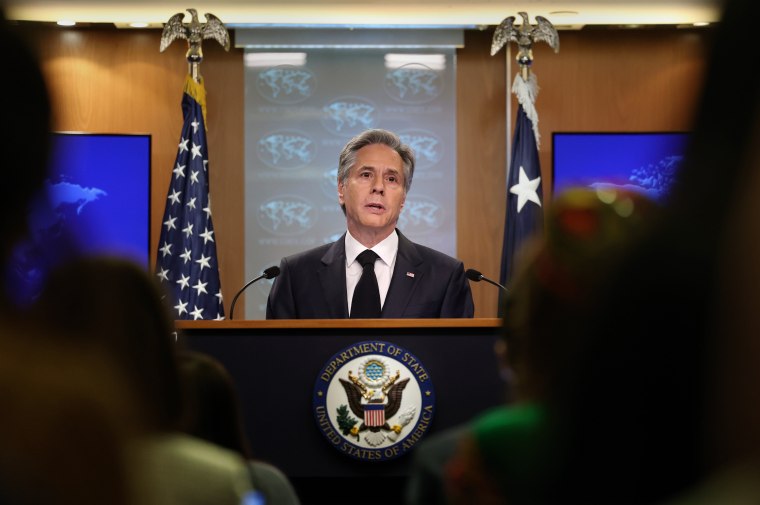 On Tuesday, a Chinese foreign ministry spokesman countered that "the US is in no position to point fingers at China."
China has accused the US, which announced on Monday an additional $350 million in munitions and other military assistance to Ukraine, of escalating the war by arming Kyiv against Russian invading forces. Beijing has denied US accusations that it is considering providing lethal military assistance to Russia.
But Xi's high-profile trip to Russia, the first since last year's invasion of Ukraine, highlights Beijing's deepening ties with Moscow and rising tensions with Washington.
"They share a deep and abiding interest in undermining US influence around the world," said Bonnie Glaser, managing director of the Indo-Pacific program for the German Marshall Fund, a Washington-based think tank.
Xi and Putin, who have met some 40 times since 2010, both reject what they see as attempts by the US and its allies to impose their liberal-democratic model on the rest of the world and have sought to get their message across to countries outside of America. a network of alliances, she said.
In an unusually scathing speech this month in which he singled out the US, Xi accused Washington of trying to hold back China's progress.
"Western countries, led by the United States, carried out comprehensive containment, encirclement and suppression against us, creating unprecedented serious problems for the development of our country," he said.
Dallas Press News – Latest News:
Dallas Local News || Fort Worth Local News | Texas State News || Crime and Safety News || National news || Business News || Health News