Wesleyan student from Ohio whose father is believed to have drowned in Lake Arkansas.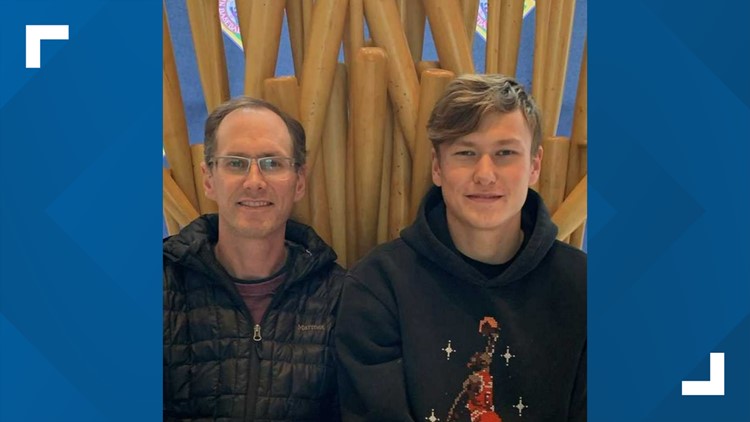 In a statement, the family says the weather and other elements created a perfect storm on the lake that was "unbearable."
COLUMBUS, Ohio. Ohio Wesleyan University said a student and his father are believed to have drowned while kayaking on a lake in Arkansas.
According to our sister station KFSM, Charlie Morris, 20, and Chuck Morris, 47, were last seen on March 16 at 11 a.m. at Beaver Lake. The two were reported missing hours after they did not return.
The Kansas City Star reported that they were kayaking on the lake before a storm was predicted to hit the area.
The Benton County Sheriff's Office began searching immediately, but was forced to halt the search hours later due to weather conditions. KFSM says the sheriff's office found one kayak and a life jacket.
In a Tuesday night message, Ohio's Wesleyan said authorities have strong evidence that Charlie and Chuck drowned.
The group Lotus, of which Chuck was a member, posted information about the father and son on Tuesday, redirecting people to a GoFundMe account.
"We were all hoping for a miracle, but for now, the search for Chuck and Charlie has moved on to recovery," the post reads. "While we mourn deeply, we plan to celebrate the lives of Chuck and Charlie, our memories with them, and what they meant to so many people."
On the GoFundMe page, the family said in a statement that the weather and other factors created a perfect storm on the lake that was "unbearable."
"Following an exhaustive search conducted by the Benton County Sheriff's Office and the Arkansas Game and Fish Commission, the family and search and rescue commanders have reached an agreement regarding the fate and likely whereabouts of Chuck and Charlie," the statement said.
The statement goes on to say that the Lost Bridge community around the lake has been a huge support to the family and they are grateful for their contributions.
"We are filled with the love of the world for Chuck and Charlie, and we will be celebrating their lives and contributions to the world at gatherings to be announced in the coming days and weeks."
News Press Ohio – Latest News:
Columbus Local News || Cleveland Local News || Ohio State News || National News || Money and Economy News || Entertainment News || Tech News || Environment News