US stocks plummet as S&P 500 ends worst year since 2008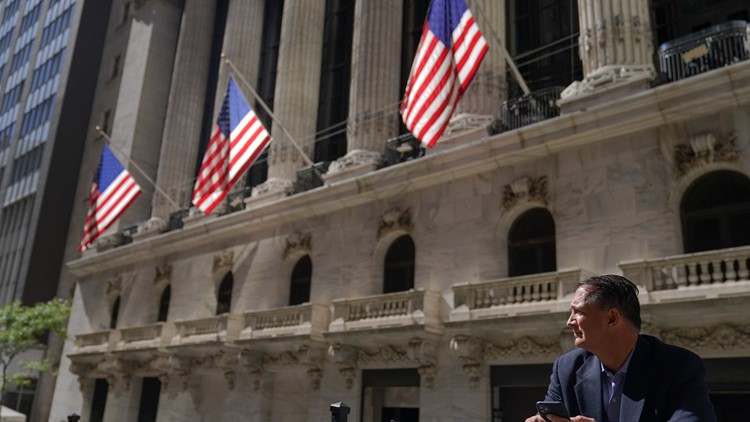 US stocks plummeted as the S&P 500 ended its worst year since 2008.
NEW YORK. Shares fell in Wall Street afternoon trading on Friday as major indexes ended a dismal year on lingering concerns about persistently high inflation and a potential recession.
The S&P 500 is down 0.7% as of 12:01 pm ET. The index, considered by investors as a benchmark for the broader market, is expected to decline by 20% by the end of 2022. This would be the biggest loss since the financial crisis 14 years ago.
The Nasdaq Composite Index fell 0.7% and is on track for a much sharper annual loss of 33.5%. The index is faring much worse this year because it is largely made up of tech stocks that have led the broader market downturn.
The Dow Jones Industrial Average fell 210 points, or 0.6%, to 33,007. The company could lose 9.4% this year.
There was little corporate or economic news on Wall Street on the last trading day of the year. Tesla has stabilized after sharp losses earlier in the week, although it is still on track for a 65% loss this year.
Southwest Airlines has stabilized as operations have returned to a relatively normal state following massive flight cancellations over the holiday period.
Energy stocks fared better than the rest of the market as U.S. crude oil prices rose 0.6%.
Bond yields have risen. The 10-year Treasury yield, which affects mortgage rates, rose to 3.89% from 3.82%.
Stocks have struggled all year as inflation put mounting pressure on consumers and raised concerns about the economy sliding into recession. Central banks have raised interest rates to fight high prices. Aggressive rate hikes by the Federal Reserve remain a focus for investors as the central bank teeters on the fine line between raising rates enough to bring down inflation but not enough to push the US economy into recession.
The Fed's key lending rate was in the range of 0% to 0.25% at the beginning of 2022 and will end the year in the range of 4.25% to 4.5% after seven hikes. The US central bank predicts that by the end of 2023 the rate will reach a range of 5% to 5.25%. His forecast does not include a rate cut until 2024.
Russia's invasion of Ukraine exacerbated inflationary pressures earlier in the year, making oil, gas and food prices even more volatile amid existing supply chain problems. China spent most of the year implementing a strict COVID-19 policy that limited the production of raw materials and goods, but is now in the process of lifting travel and other restrictions.
However, analysts say the Fed's fight against inflation is likely to remain a top concern in 2023. Investors will continue to look for a better idea of ​​whether inflation is declining fast enough to take the pressure off consumers and the Fed.
Several major job market updates are expected in the first week of 2023. This was a particularly strong area of ​​the economy that helped build a bulwark against a recession. This, however, has made the job of the Fed more difficult because high employment and wages mean the Fed may have to remain aggressive to continue fighting inflation. This, in turn, raises the risk of an excessive economic slowdown and recession.
The Fed will release the minutes of its latest policy meeting on Wednesday, which could give investors more information about its next steps.
On Wednesday, the government will also publish the November vacancies report. This will be followed by the weekly unemployment update on Thursday. The monthly employment report will be published on Friday.
Wall Street is also waiting for the latest corporate earnings reports, which will start rolling in around mid-January. Companies are warning investors that inflation is likely to cut their profits and revenue in 2023. This comes after spending much of 2022 raising prices on everything from food to clothing to offset inflation, though many companies have gone even further and actually increased their profits.
S&P 500 companies are expected to report a 3.5% drop in earnings in the fourth quarter, according to FactSet. Analysts expect earnings to remain roughly flat in the first half of 2023.
News Press Ohio – Latest News:
Columbus Local News || Cleveland Local News || Ohio State News || National News || Money and Economy News || Entertainment News || Tech News || Environment News