Took 4 hours to get to body found in Lake Erie, Browns legend Bernie Kosar bet $19,000 on Jan 1st and more: 3News Daily with Stephanie Haney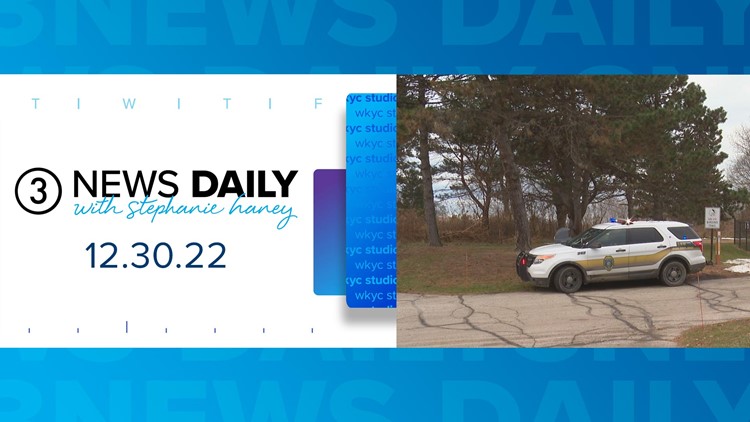 At 3News Daily, Stephanie Haney shares details of today's most read articles on WKYC.com and the WKYC app.
CLEVELAND – New on 3, get the latest on what's happening and affecting you in Northeast Ohio Friday, December 30, 2022 on 3News Daily with Stephanie Haney.
Find out what we know about a body found yesterday in Lake Erie that took 4 hours to recover, and where you can see former President Donald Trump's 6 year tax returns.
Check out the Weather News to find out how long the Buffalo travel ban has been in place and what we know about Southwest's return to full operations.
Get the latest details on how to extend the holiday spirit with an extra week of wild winter lights at the Cleveland Metroparks Zoo.
As Ohio gears up for legal sports betting, find out what Cleveland Browns legend Bernie Kosar is betting $19,000 on when the clock strikes midnight on New Year's Day, where he places that bet, and more at 3News Daily .
Get detailed information about these storesrice and more on 3Daily News with Stephanie Haney by watching the video below:
See the most read stories of each day on wkyc.com, Monday through Friday, on 3News Daily with Stephanie Haney.
Watch live on 3, NBC NewsNOW, and Peacock every weekday at 1pm on NBC News Daily, and stream an enhanced version of 3News Daily every weekday afternoon on the WKYC+ app, which you can download for free on Roku and FireTV.
News Press Ohio – Latest News:
Columbus Local News || Cleveland Local News || Ohio State News || National News || Money and Economy News || Entertainment News || Tech News || Environment News