The Cleveland City Council approves a $1.9 municipal budget, leaving Mayor Justin Bibb's proposals largely unchanged.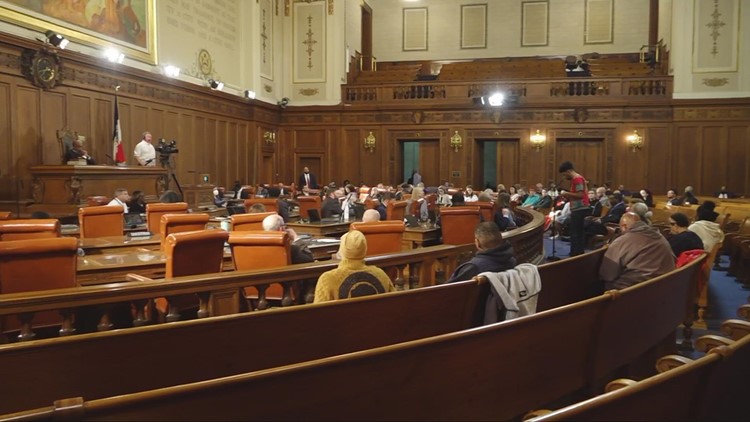 Lawmakers have increased spending by more than $200,000, but the budget remains structurally balanced in line with the mayor's wishes.
CLEVELAND — The Cleveland City Council on Monday unanimously approved Mayor Justin M. Bibb's 2023 budget, with $1.9 billion in spending and $710 million in fundraising.
In his initial proposal last month, the mayor sought to enact a "structurally balanced" budget after covering potential losses last year with federal COVID-19 relief funds. The initial reading would have resulted in a surplus of around $225,000.
Legislators then approved more than $200,000 in additional spending, which would have resulted in a deficit. However, Bibb's office was able to make up for this by cutting some contract costs as well as adding money left over from previous projects.
"We emphasized last year that Council members expect a structurally balanced budget," Council President Blaine A. Griffin said as early as March 6.
Notably, the board agreed to Bibb's proposal to eliminate more than 140 vacancies in the Cleveland Police Department, which has decreased overall from 1,640 in 2022 to 1,498 in 2023. By the end of the year, lawmakers are skeptical as only 11 people are currently enrolled in the Cleveland Police Academy's newest class.
Overall, more than 200 unfilled city positions have been eliminated, and the council hopes to revisit the issue with Bibb in a few months. The mayor's office noted that current cops will receive a 7% pay raise as part of a new collective bargaining agreement, but Cleveland Patrolmen's Association president Jeff Follmer continued to criticize the decision to cut possible jobs.
"You can't predict what's going to happen in a year," Vollmer told 3News in February. "We may not get there for a while, but we must keep trying because this city is one of the most dangerous cities in the United States. We are indebted to its people."
The budget could not be passed until it had been read three times in the council chamber, which happened at the weekly meeting on Monday. The final deadline for the agreement was April 1, and Bibb is expected to sign it by then.
Also Monday, council members passed legislation to build a new $90 million police department headquarters, buying the historic ArtCraft building along Superior Avenue and contracting TurnDev to renovate the facility. They also approved a resolution by councilor Jenny Spencer calling on the US Congress to pass the Federal Rail Safety Act of 2023, proposed by Ohio Senators Sherrod Brown and JD Vance in the wake of the East Palestine train derailment.
News Press Ohio – Latest News:
Columbus Local News || Cleveland Local News || Ohio State News || National News || Money and Economy News || Entertainment News || Tech News || Environment News