Remaining Latitude Five25 Residents to Move After City Deems Apartments Unsafe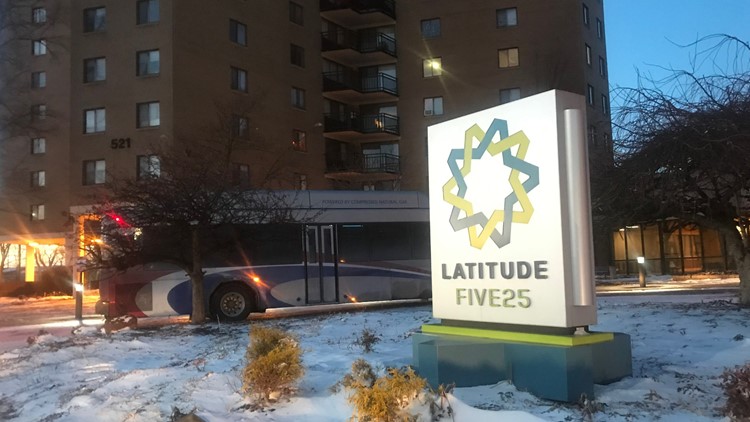 City officials report that the Latitude Five25 buildings lacked potable water, heat, and a working fire extinguishing system.
COLUMBUS, Ohio. The remaining residents of an east Columbus apartment complex are being asked to vacate the site by Friday after the buildings were deemed unsafe.
The city says the Latitude Five25 buildings, located at 525 Sawyer Boulevard, had no potable water, heat, or a working fire suppression system. In addition, only one of the four elevators is operational.
The complex was evacuated over Christmas when some of the pipes burst due to low temperatures, causing damage to the electrical wiring.
While some were able to stay with friends or family, others were taken to the Dodge Community Center, which was set up by the American Red Cross as an emergency shelter.
"Our primary concern has been to ensure that displaced residents have access to safe and warm housing, and through the efforts of many City and County employees, working closely with social service providers, we have been able to keep residents safe," Mayor Andrew Ginter said. . "Our next step is to find more permanent solutions for residents and hold property owners accountable."
On Thursday, city officials said all building occupants must leave the towers by noon Friday.
Franklin County Board of Commissioners president Erica Crowley said they are working with city and community partners to meet residents' urgent housing needs.
"In addition to providing funding to provide safe temporary housing for all Latitude Five25 residents, we also offer comprehensive support. We are going to go with them and help them overcome this crisis with dignity," she said.
City officials said they are working with the county and other service providers to provide temporary housing for the displaced.
Franklin County Commissioners convened in an emergency meeting Wednesday to allocate $750,000 for temporary housing and support for ongoing operations at the Dodge Community Center.
The city adds that Ginter is working with the Columbus City Council to provide an additional $750,000.
On Tuesday, Columbus City Attorney Zack Klein announced his intention to file a contempt suit against Paxe Latitude owners.
This may result in the handover of the property to a management team that will take over the management, simplify repairs, and begin preparing the property for sale.
The property has had a history of trouble, including earlier this year when the city filed lawsuits against the owners for breaking the code and being unsafe.
In addition, the city reported that between January 2020 and January 2022, police received more than 1,000 support calls, including shootings, shootings, overdoses, drug complaints, reports of domestic violence, and on-site fights.
News Press Ohio – Latest News:
Columbus Local News || Cleveland Local News || Ohio State News || National News || Money and Economy News || Entertainment News || Tech News || Environment News