Mayor Dan Horrigan and Akron City Council will resume accepting applications for the Civilian Police Oversight Board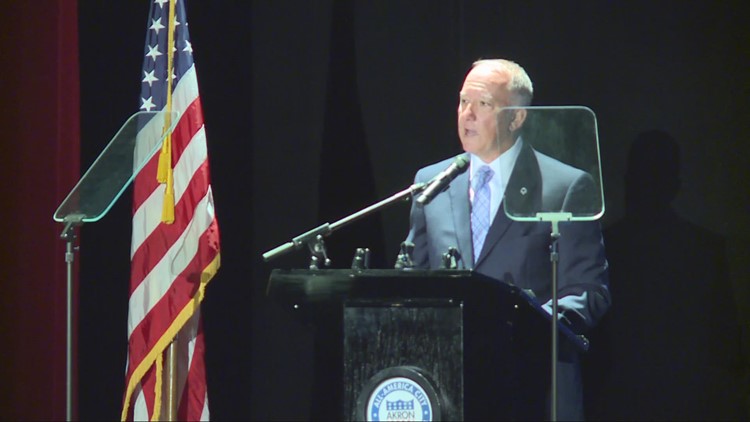 The newly formed Civilian Police Oversight Board will be made up of nine Akron residents.
ACRON, Ohio — Akron Mayor Dan Horrigan announced that effective Tuesday, January 3, he and the Akron City Council will reopen an application for a new Civilian Police Oversight Board.
"The creation of this council in Akron has been a long time coming, and I look forward to seeing the results of this community engagement," Mayor Horrigan said. "Formation of the Board is only the first step. There is a lot of work ahead for these Board members, and I encourage anyone interested in making a real impact on our community to apply and have their say in this important dialogue."
Issue 10's passage came on Election Day, almost four months after Jayland Walker was shot and killed in an incident involving eight Akron police officers on June 27 during a nighttime chase.
The original nominees will continue to be considered for positions on the board, Mayor Horrigan said.
The council will be made up of nine Akron residents, three of whom are appointed by the mayor and six appointed by a 2/3 majority of the city council. There can be no more than two members of the Board from one parish.
To qualify for the Council, candidates must fall into the following categories:
Attorney with experience in criminal justice and/or civil rights
Ages 18 to 35
From a religious community
Professional experience in mental health care
Affiliated with an organization representing economically disadvantaged and underserved communities in Akron.
Professional experience in law enforcement
"We are pleased that the Citizens' Police Oversight Board is starting its work," said City Council Chair Margot Sommerville. "The creation of this Council is the realization of a long-standing desire by the people of Akron to be more actively involved in community policing efforts in our city. This Council will help improve communication between the community and the police, reduce public concern about high-profile incidents, and prevent future problems by identifying problem areas and suggesting options for improving police performance."
When are apps open?
Applications to the Council will open at 10:00 am on Tuesday 3 January.
How to apply?
Online

Applications will be available on the City of Akron website and completed applications can be emailed to [email protected] along with a copy of a current resume.

Personally

Residents will also be able to get a copy of the application from City Hall (166 S. High St., Akron, OH 44308) starting Tuesday.
When are applications accepted?
Applications must be submitted in person or by email by noon on Tuesday, January 24th.
When will board members be appointed?
The city council and Mayor Horrigan plan to introduce the board nomination bill on Monday, Feb. 6, and hope it will be passed by the end of February.
Following the passage of Issue 10 in Akron, a legal team representing the Walker family released the following statement:
"The Jayland Walker family is very pleased and humbled by the passage of Law 10 (Jayland Act) by their Akron community. Since the 1960s, the people of Akron have been asking their city leaders to provide civilian oversight of their police department. Until yesterday evening, these requests were fulfilled. was denied. The passage of Issue 10 allows Akron to join a growing number of cities that have turned to civilian oversight groups and independent police auditors to investigate cases of police misconduct. Jayland's family is proud to be part of the Akron community, a place where Americans used the democratic process to bring about meaningful reform in memory of the lives of Jayland and others who died in police violence. Today is a day of optimism, although there is still a lot of work ahead. This is not the end of our efforts to hold on to power. The city is responsible for Jayland's death. This is just the beginning. Yet today the Jayland family is celebrating the fact that significant changes have taken place in Akron."
EDITOR'S NOTE: The video above previously aired on 3News on October 12, 2022.
News Press Ohio – Latest News:
Columbus Local News || Cleveland Local News || Ohio State News || National News || Money and Economy News || Entertainment News || Tech News || Environment News